Innovations are limitless, much like success. As we proudly received the IET India Mobility Award 2023, the series of our endless efforts, creative ideas, hard work, failures, and little yet joyous celebrations went away before us like thin air. This honour not only recognises the company's proficiency but also the revolutionary change that electric mobility has brought forth in the industry!
The IET India Mobility Award: Significance
The IET India Mobility Award is exceptionally valuable and prestigious in the realm of electric mobility. Its objective is to recognise and reward Indian engineers and organisations that are excelling in innovation and making a difference in the country! The Institution of Engineering and Technology (IET) grants this honour to recognise exceptional achievements in a range of sectors, including IT, energy and power, and telecommunication. The award is a mark of approval and acknowledgement from the industry due to the IET's long history of promoting technological excellence.
The Institution of Engineering and Technology has a 152-year history. The IET awards have their origins in the Institute of Telegraph Engineers, which was the organisation's original name when it was founded in 1871. The organisation evolved throughout the decades, broadening its reach and influence, and ultimately transformed into the IET in 2006.
The first IET India Award was given in 2021 in honour of the Institution of Engineering and Technology's 150th anniversary. Isn't that incredible?
In other words, just as technology developed, so did the awards, which now represent a wider range of engineering specialities to foster a brighter future.
The IET Awards received high praise globally, attracting nominations and contestants from all over the world. This global viewpoint elevated innovative ideas and a range of talented individuals. Globally distributed engineers and technicians were honoured for their contributions, like ElectricPe, to cross-border breakthroughs.
ElectricPe's engagement in the IET India Mobility Award 2023 highlighted our steadfast commitment to fostering innovation and environmental responsibility in the mobility sector. The award is given to acknowledge the social and ecological impacts of the offered solutions, as well as technological advances. ElectricPe's achievement of the IET India Mobility Award 2023 is a reinforcement of the industry's evolution towards green and electrified mobility solutions.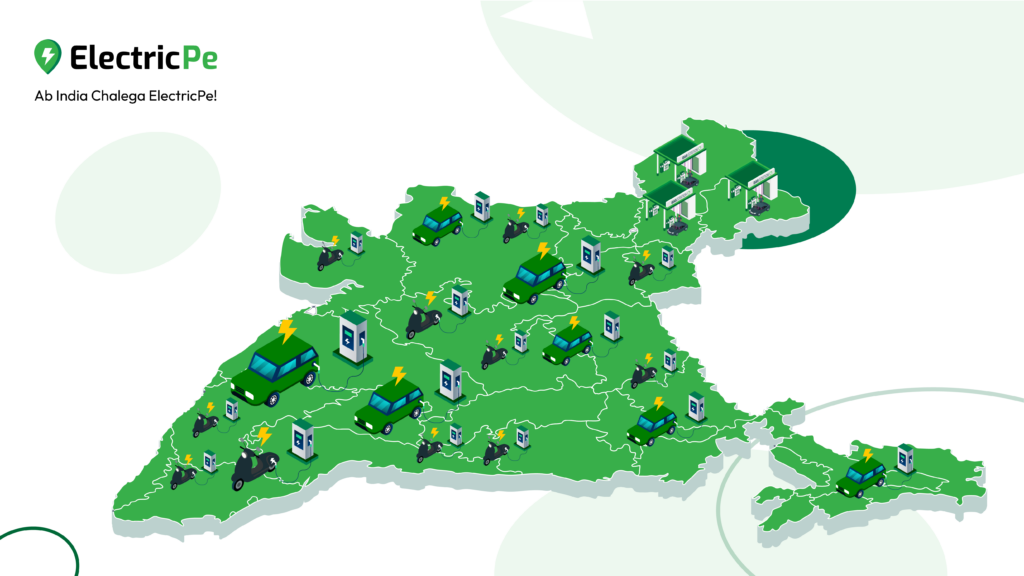 How did ElectricPe's innovative notions enter the world of electric mobility?
ElectricPe has always been committed to developing solutions that are both universally accessible and sustainable for everyone. We have been at the heart of coming up with mobility solutions by setting up charging stations across many cities that have completely changed the perception of people towards EVs. ElectricPe has consistently pushed the boundaries in pursuit of a greener future with its advanced and user-friendly charging stations.
ElectricPe is unique in its aim to provide affordable, clean mobility to a billion Indians. Our focus is on developing an extensive ecosystem for electric mobility.
To minimise range anxiety and give users the finest feasible EV experience, ElectricPe's mobility solutions focus on motivating people to convert to EVs for a better and brighter future and installing as many charging stations as possible around India.
Additionally, ElectricPe developed two user-friendly apps: the ElectricPe app and Charger Management Software (CMS). ElectricPe has been successful in providing a comprehensive approach to electric mobility that promotes consumer accessibility by serving a range of mobility needs. 
The founders of ElectricPe, Mr. Avinash Sharma and Mr. Raghav Rohila, have always been strong proponents of technology and sustainability. They made sure to combine both elements and create a weapon that would turn India into the first EV-converting nation.
ElectricPe's goal has always been to provide a sustainable environment for all, and receiving this award has further strengthened our conviction that we are headed in the right direction and will soon see the conversion of India to an EV-driven nation. To make a meaningful and long-lasting difference in the world, ElectricPe is steadfastly dedicated to solving the environmental aspects of sustainability, aligning our efforts with the United Nations' Sustainable Development Goals (SDGs) to create a positive and lasting impact on the world.
ElectricPe's electric mobility solutions are intended to motivate people to switch towards EVs, promote accessibility to smooth charging facilities, and aid in the construction of innovative and sustainable cities. So ElectricPe will continue to encourage people to make the switch to electric vehicles to improve the environment. Furthermore, we will continue to make every effort to combine technology with sustainability for a better tomorrow.